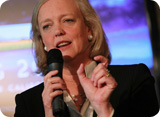 According to a new report
[Для просмотра ссылки ]
, HP's CEO Meg Whitman is about ready to end the ongoing saga over the uncertain future of WebOS within the next two weeks. Speaking to a French newspaper, she reportedly revealed:
Q: What will you do with your operating system webOS?

A: We should announce our decision in the next two weeks. This is not an easy decision, because we have a team of 600 people which is in limbo. We need to have another operating system.
The original interview, in French, can be
[Для просмотра ссылки ]
, or via
[Для просмотра ссылки ]
if you prefer.
[Для просмотра ссылки ]