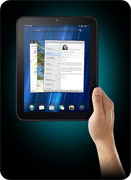 This past February,
[Для просмотра ссылки ]
on numerous
[Для просмотра ссылки ]
that WebOS 2.x would be made available for the legacy Palm-branded devices due to a variety of problems stemming from carrier certifications to performance-related hardware issues. Since then, HP has firmly stated that owners of all legacy Palm-branded WebOS devices (save the newer Pre 2) would be out of luck as far as future OS updates and enhancements. As evident in our recent story about Rovio's lack of
[Для просмотра ссылки ]
for WebOS, the older
[Для просмотра ссылки ]
of the OS found on these devices will become more and more of a hindrance moving forward as far as compatibility and support for newer applications.
Thankfully,
[Для просмотра ссылки ]
on the official HP Palm blog makes good on Jon Rubinstein's February promise for "something special". All legacy WebOS device owners can now be one step closer to enjoying the latest WebOS 3.0 on brand-new hardware in the form of a $50 loyalty rebate on a new 32GB TouchPad.
[Для просмотра ссылки ]